Flower Power!
PMG at the Chelsea Flower Show
Brace yourselves; Team PMG were let loose at the Chelsea Flower Show, and it has to be said, we do have the coolest team on the planet!

What a stunning day! The RHS certainly didn't disappoint! For any of our Garden Families or visitors who also embarked on this floral extravaganza, we hope your journey through petals, gorgeous creations and the wonderful scent of blossom, was a memorable and delightful one.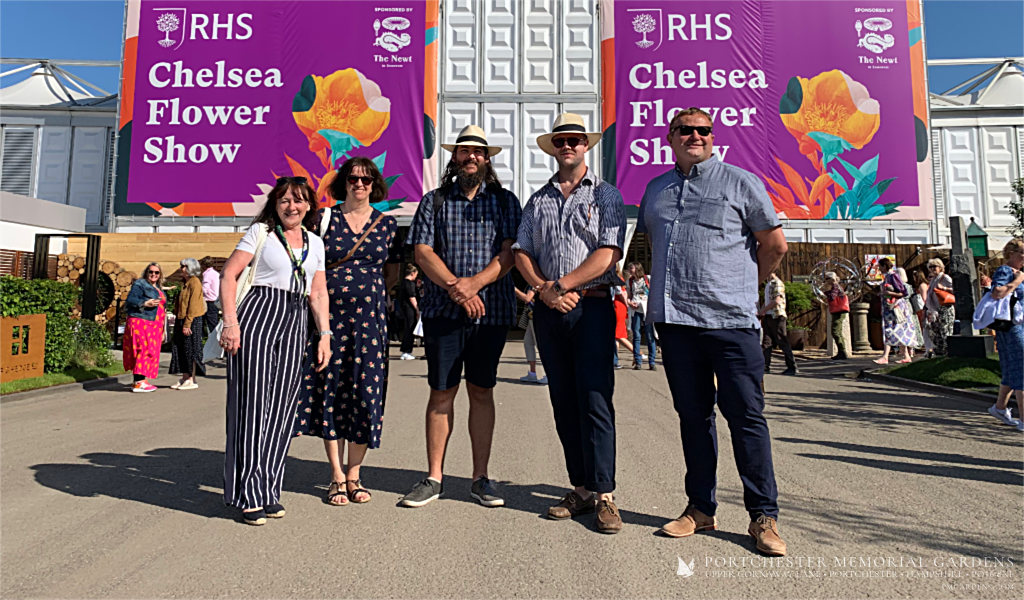 What we are discovering more and more is how garden designers and growers are using their ingenuity and skill to address, at a local level, the now recognised impact of the biodiversity crisis and climate change. With great innovation they are creating examples of how nature and people can thrive together. Perhaps more importantly, the power that gardens hold as places of sanctuary, further enhancing our well being.
Team PMG's Favourite Gardens
This was difficult!
The Biophilic Garden Otsu-Hanare with its stunning array of artistically coloured Acer trees set amongst the calming sound of the waterfall and tranquil pond.
Simply Beautiful!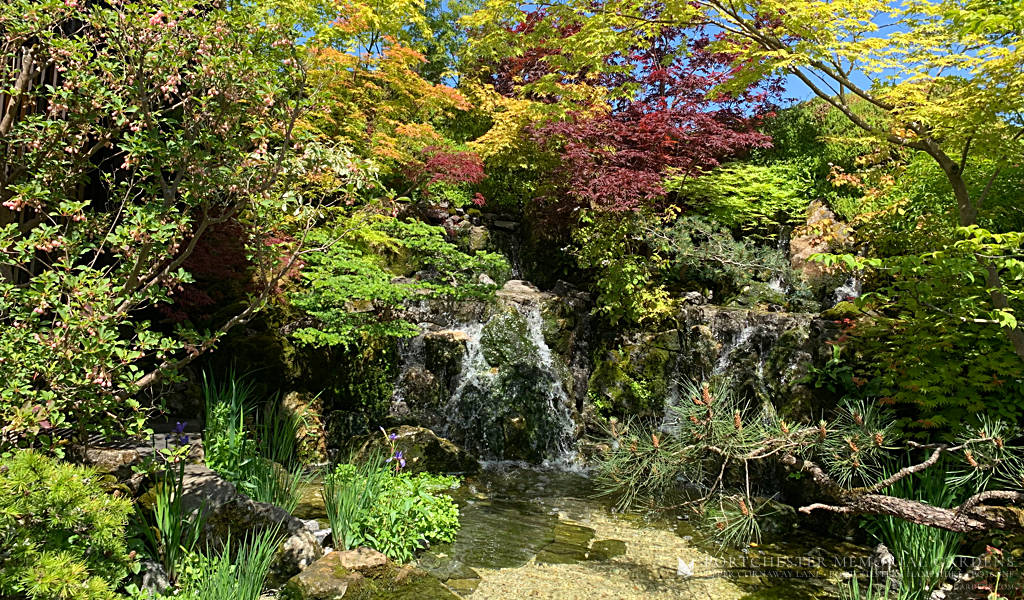 Martin, our head gardener, mentioned three gardens in particular:

"The Nurture Landscapes Garden was truly groundbreaking! The design, the planting and materials will be used in gardens and designs for many years.

Horatio's Garden was full of ideas – planting that I feel would be easily incorporated into our gardens.

Finally, The Savill Garden; my favourite with it's fantastic use of materials and planting. Similar to the Transcendence Garden, it uses a pathway to discover the garden as you walk through it."
Of particular interest to our team is the Transcendence Garden that the designers describe as "a garden which channels their own personal experience of loss to create a truly thoughtful space that invites visitors to feel a sense of peace, while celebrating the different journeys we all take through life and the difficulties we overcome. The healing properties of nature embrace visitors through thoughtful design, beautiful planting schemes and clever use of water and light. They have incorporated a range of contrasting plants, shrubs and trees of varying heights, textures and colours, while playing with lighting, and infrastructural elements to reflect that life features both beautiful moments and more difficult times, often leading us down unexpected paths."
Dapper Pensioners!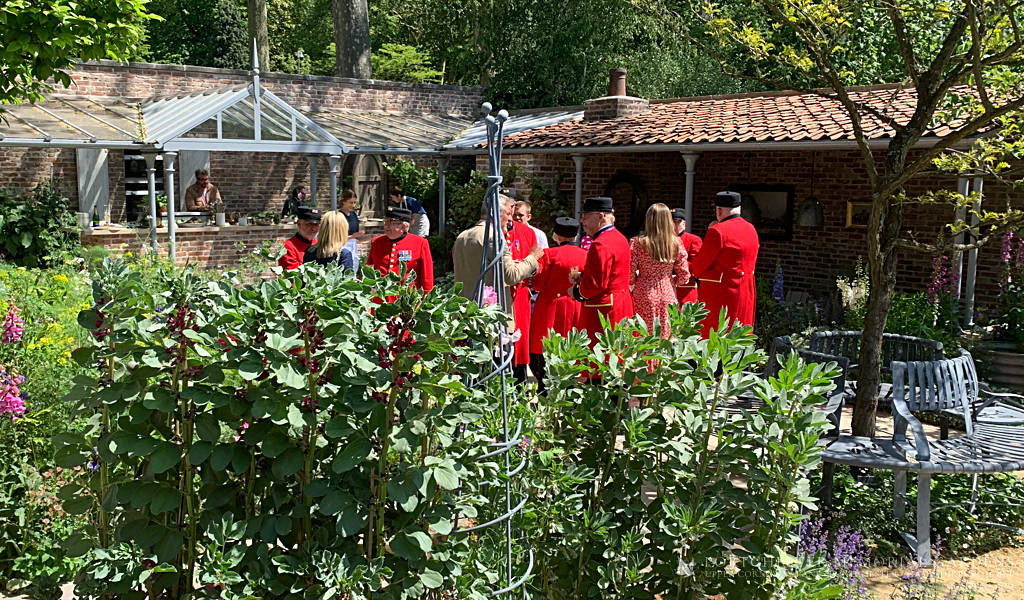 The Talitha Art's Garden
…and it's wonderful backstory.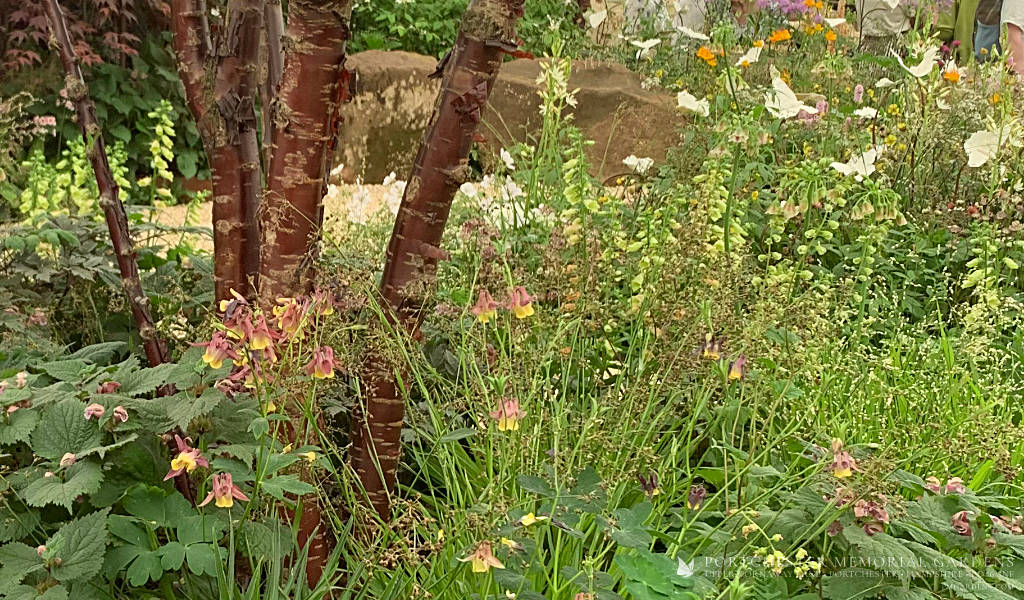 Talitha Arts is a UK charity. Therapists and professional creatives use therapeutic arts to lift, restore dignity and empower vulnerable individuals who have experienced trauma, abuse and violence. The two hundred and fifty handmade butterflies are a beautiful metaphor to the transformation that many of those in need find in the Talitha Art Sanctuary.
Project Giving binds together philanthropy and horticulture. They support charitable causes both locally and nationally with fully funded grants, giving these organisations an opportunity to appear at the RHS Chelsea Flower Show and in doing so raise much needed awareness and support. The financial aid also enables the relocation of the garden to a permanent setting after the show. Both Project Giving philanthropists are RHS life members; they remain anonymous.
The National Brain Appeal's Rare Space Garden
Calm Balance
The National Brain Appeal's Rare Space Garden raises awareness and takes inspiration from people living with rare forms of dementia, particularly visual and spacial forms of the disease. 'Dementia' is not just memory loss in later life; twenty percent of those diagnosed are non-memory-led, young-onset and/or hereditary.

This garden is built upon contrasting materials and distinguishable elements. The simple layout offers balance for exploration and calm navigation.
Balanced Exploration

Calm Navigation
Other photos from a beautiful day spent together
BBC RHS doing their thing
Sophie Raworth and Joe Swift

Both spotting our most stylish garden team!
As always, we cannot wait to explore next year's creations. We wholly recommend a visit should you ever have the opportunity to do so!

Wishing you all plenty more blue skies!