Cancellation of Christmas Memorial Service
It is with great regret that we are reluctantly having to cancel the Christmas Memorial Service at Portchester Memorial Gardens this coming Sunday (9th December).
The amount of rain we've had over the last month – more than double the same period last year – has waterlogged our top field, which we usually use for overflow parking. It's not safe for cars or people, which means that somewhere in the region of 200 cars won't have anywhere to park; and it would be irresponsible of us to expect that volume of traffic to spill out onto nearby roads.
With the heavy rain today, and forecast showers for much of the rest of the week, we've sadly had to take the decision not to go ahead, even though the forecast for Sunday itself actually looks nice this year.
This is only the second time in 15 years that we have been unable to hold the Service – the last time was due to snow and we plan to do as we did that year and arrange a spring Service instead (probably around Easter). We will keep you informed on plans and dates.
Please be assured that this is not a decision we have taken lightly. For many years we have been trying to develop plans for alternative parking areas or temporary park and ride schemes and have looked into hiring non-slip track mats for the top field, but sadly the logistical and financial impacts of all of these ideas make them impractical.
We are trying to let everyone know as early as we can about the Service not going ahead and will be endeavouring to email or phone everyone who replied to us and gave us contact details. However, if you are aware of anyone planning to come who hadn't let us know, please can you pass on this news to save them making a wasted trip.
The Gardens themselves will be open as usual from 8.30am to 4.30pm on Sunday, so you can still visit to put floral tributes, etc.
We are so sorry to have to cancel and know how much you enjoy the Service, just as we enjoy seeing you all and remembering your loved ones. We do hope you will be able to join us in the Spring instead.
A place of peace and tranquillity
There is nowhere more fitting to remember the loved ones you have lost, and celebrate their lives, than in the peaceful setting of a beautiful garden.
Portchester Memorial Gardens offers a private, tranquil haven in which to lay your loved one's ashes to rest. Set among six acres of manicured lawns, mature shrubs and meandering streams, a variety of themed areas and a choice of personalised memorials enable you to build a fitting tribute that reflects the uniqueness of the person you have lost.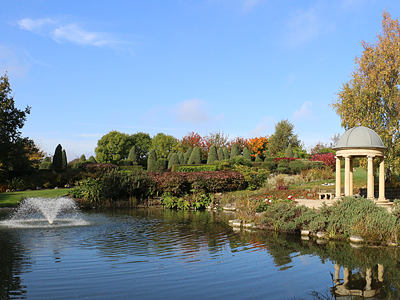 About Us
A special final resting place for your loved one's ashes, our soothing garden setting is the perfect spot to remember special occasions and unforgettable memories, helping to slowly ease your heartache.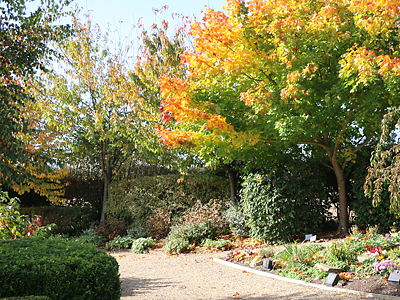 The Gardens
Follow paths from the tranquil Garden of Peace, through the colourful Little Springs children's area. Pause to enjoy the scents on the Hill of Roses before entering the sunny haven of the Garden of the Sea.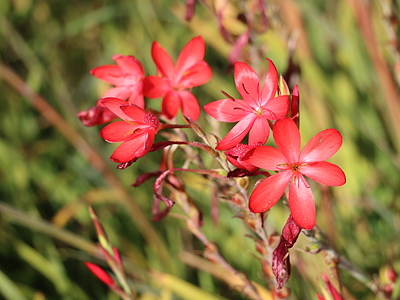 Gallery
Our green-fingered team works hard to keep our award-winning memorial gardens looking lovely all year round. Here is just a selection of photos from recent years.