Queen's Jubilee
In honour of HM Queen Elizabeth Platinum Jubilee in 2022
Mayor leads Queen's Green Canopy Tree Planting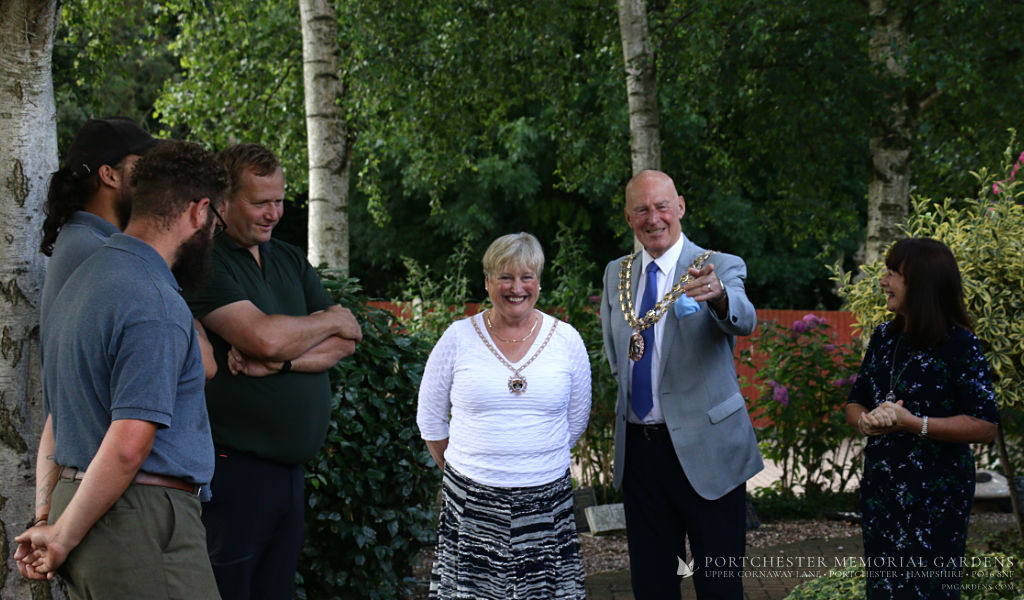 On 30 June 2022 we held a tree planting event to mark the Queen's Platinum Jubilee which took place in our gardens.
Fareham Borough Council Mayor, Councillor Mike Ford, together with his wife, Mayoress Mrs Anne Ford led us in planting a Paulownia tomentosa, more commonly known as an Empress or Princess Tree and a Pyrus calleryana, otherwise known as a Chanticleer Pear Tree.
The Queen's Green Canopy honours the 2022 Platinum Jubilee of Queen Elizabeth II. As a gift for Her Majesty's 70 years of service on the throne, the initiative encourages the planting of healthy native trees that will not only thrive, but enhance the environment and landscape for generations to come, creating a lasting legacy to honour Her Majesty's leadership.
The tree species for this planting were chosen for their climate resilience and regal colours. Paulownia trees, with their nitrogen-rich leaves and roots, prevent soil erosion due to their large leaves which readily absorb pollutants, benefiting the surrounding environment while the 'Chanticleer' are low maintenance with a good resistance to pollution.
In correspondence following their visit, Councillor Mr Michael Ford wrote:
'I would like to thank you for a truly superb couple of hours at the Memorial Gardens on Thursday. It was a delight to add to the Queen's Green Canopy Project and we will watch the growth of these two fine specimens with interest.
You have a wonderful team with you, and it was lovely to meet Julie and Pierre, but particularly to hear your Mum's inspiring story of how it came to be all those years ago.
Perhaps I can also mention Martin who escorted us around the gardens, explaining how each part had been planned and what is in store going forward. A delightful and so knowledgeable guide. Along with Ollie and Alfie, you look to have a cracking landscaping and gardening team.'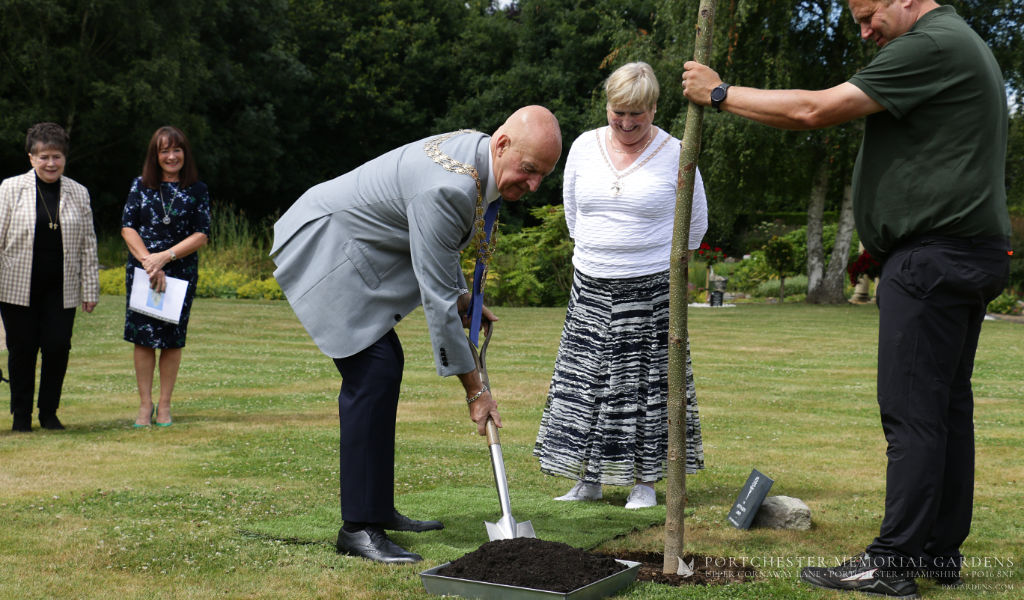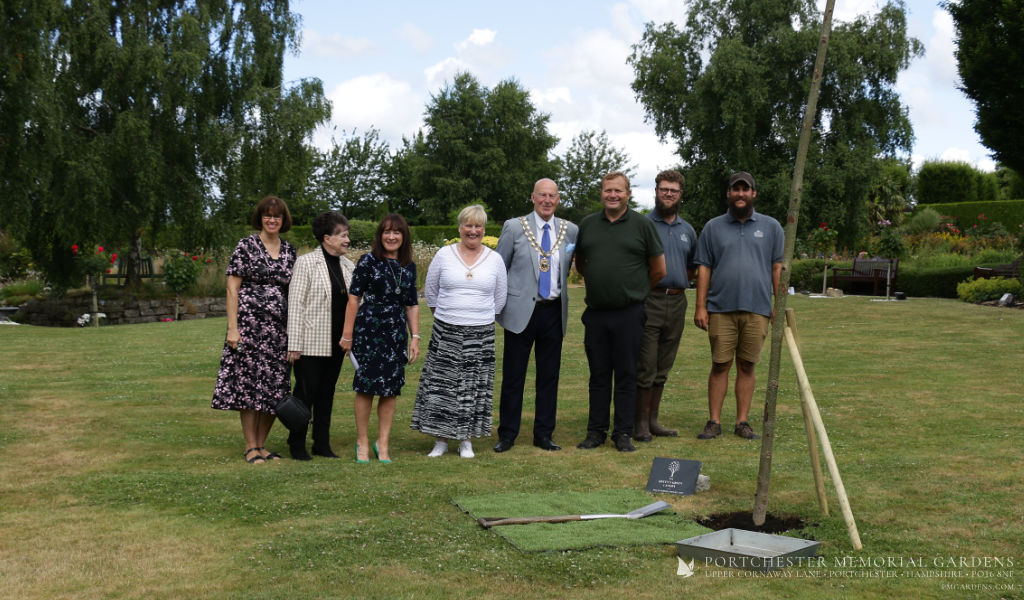 Visitors to our gardens know the tremendous work that goes on behind the scenes and by continuing to plant and grow trees we are not only protecting the native tree cover but adding to the resilience and health of our beautiful grounds.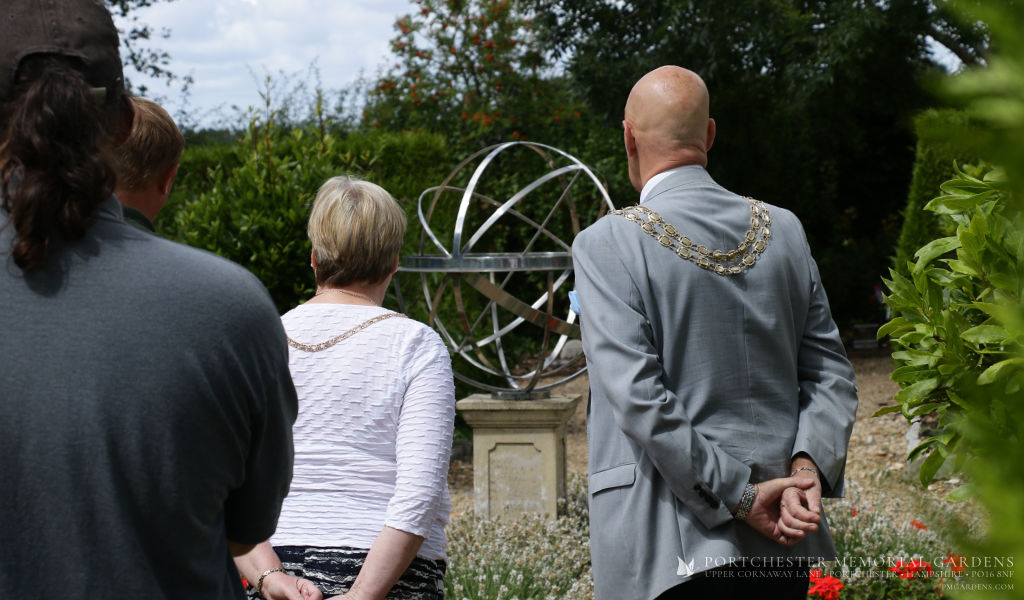 On behalf of the entire PMG team, we would like to extend our gratitude to The Mayor of Fareham, Councillor Mr Michael Ford and Mayoress, Mrs Anne Ford for their contribution and time on what was a most memorable day. Notwithstanding, we look forward to you checking up on the canopy trees should you ever find yourselves in the vicinity.